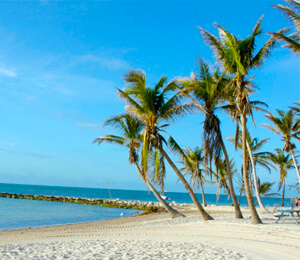 If you're heading down to Key West, be prepared: There are so many Key West excursions to choose from that you may end up extending your vacation! Whether you are coming to spend your time enjoying the intense variety of Key West water sports available to you or to indulge in some lazy days relaxing on our beautiful beaches enjoying the sand and sun, Key West Visitor Guide can help you to find things to do in Key West every minute of the day. Our Top 10 Key West list can help you organize your trip to ensure that you don't miss out of any of the remarkable experiences available to you during your dream vacation. KeyWestVisitorGuide.com is your key to finding all of the best activities for your dream vacation.
Things to do in Key West
The sway of the palm trees, the crash of the surf and the cry of seagulls will draw you to our beaches, where you can find a variety of Key West tours to choose from. If you love nature, our snorkeling adventures will open up a whole new world to you, allowing you to see the bountiful life thriving underneath our clear aquamarine waters. For a trip on the wild side, our eco tours will enable you to get up close and personal with some of the diverse wildlife in the area, such as our playful dolphins or mystical manatees. Even traveling from one activity to the next can be an adventure, as you can choose from exhilarating airplane rides that will give you a bird's eye view of our incredible landscape, or exciting jet ski tours to satisfy the thrill-seeker in you. For a change of pace, take a glass bottom boat cruise or a simple kayak paddle, where you can enjoy our beautiful mangrove swamps and waving sea grass beds while you search for sea turtles or tropical fish. Our brightly-hued flowers, twittering indigenous birds and friendly residents will be a continual reminder of the warm Key West atmosphere that makes our visitors return time and time again.
In order to fully appreciate the variety of Key West attractions available, you may want to acquaint yourself with the history surrounding this amazing area. Due to our location along the major sea routes, numerous ships laden with valuables often became caught up on the reefs during major storms, spilling their treasures on the ocean floor. If the lure of sunken treasure is irresistible, don't miss the Mel Fisher Museum, where you can explore tales of pirate plunder and learn all about the fascinating realm of underwater archaeology.
Piracy was a big concern in the area, as the numerous small islands of Key West lent themselves to providing temporary hiding places for pirates avoiding the authorities. In order to protect the Gulf ports from any threat of invasion, impressive Fort Jefferson, the largest brick structure in the United States, was constructed on Dry Tortugas, the last islands in the Key West island chain. Fort Zachary Taylor was similarly positioned to protect the port cities. It served a strategic position during the Civil War as well as the Spanish-American War.
For those with a fondness for the past, our distinctive Key West architecture is not to be missed. Our many Old Town historic houses will appeal to the romantic in you, as the diversity of homes in Key West reflect our history, our culture and the atmosphere that is Key West. You will see gingerbread-style mansions and charming cigar-maker cottages. The joy is in the journey, as you may choose to zip around our narrow streets by way of our iconic scooters or electric cars.
While you are checking out historic landmarks, be sure to visit Truman's Little White House. Also called the 'winter' White House, this Presidential home provides a step back into history. This landmark home served as a retreat for six different US Presidents, and was used as a vacation retreat as recently as 2005 when President Clinton stayed here.
Although the variety of activity here is endless, don't forget one of the most important things about your Key West vacation: Take time to enjoy our fabulous sunsets! Wherever you are, when the sun is setting, time seems to stand still for a few minutes while everyone enjoys the brilliant colors of the setting sun as itreflects off the stunning turquoise sea. If you'd like to combine a cruise with your sunset, you may want to try one of our Sunset Cruises. Don't miss our fabulous Key West Restaurants, offering a range of local specialties as well as international cuisine. We have the best seafood, from fresh fish to conch fritters, so you can try a different specialty each night you are here. To top off your evenings, check out our spirited Bars and Nightlife, where you can find the perfect spot to sip a cocktail while enjoying some live island music.
Start your Key West adventure by browsing our site! Your tropical adventure awaits you!